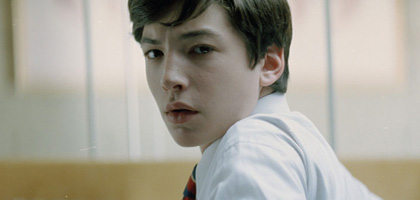 Antonio Campos' hypnotic thriller Afterschool has enthralled audiences at varies festivals in the last year. But it wasn't picked up for its really disturbing content. The film challenges the ideas of drug use, pornography and mindless carnage. It is study on the psychology of the students in schools in the states.
The film garnered a lot of support from studios and has been finally picked up by IFC films. It is careful misleading account of a 16 year old boy who is in the heat of a murder of two girls who overdosed. The film stars Michael Stuhlbarg who will be seen next in A Serious Man, his acknowledgement of the boy's killing and his studied realization is also part of this great film. It has been heralded as the new force in the indie market.
The trailer is something of a give away. So for those of you who want to experience this mini masterpiece please avoid watching this. But otherwise this is a really arresting trailer that will certainly leave something in your mind. The film also stars newcomers Ezra Miller, Jeremy Allen White, Addison Timlin, Rosemarie Dewitt and Christopher McCann. Check the trailer after the jump.