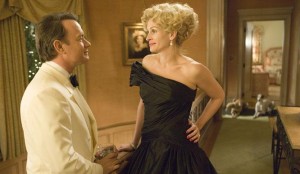 Tom Hanks is getting writing cap on for his next film called Larry Crowne. He will not only star in the film along with Julia Roberts but will also direct Julia for the first time in the film. Tom Hanks and Julia Roberts were last seen together in the comedy Charlie Wilson's War.
Larry Crowne is a comedy about a man forced to reinvent himself and find a new career as he navigates the second act of his life. The film will be ready to shoot as soon as March once the distribution deals come through.
Hanks is no stranger behind the camera. The last time he did it was the musical That Thing You Do. Everyone will want to know more about the storyline of this film. But with the two of them in the film I think we can sort of skip the story. The rest of the cast members and crew will be posted soon so look up for updates on our site.