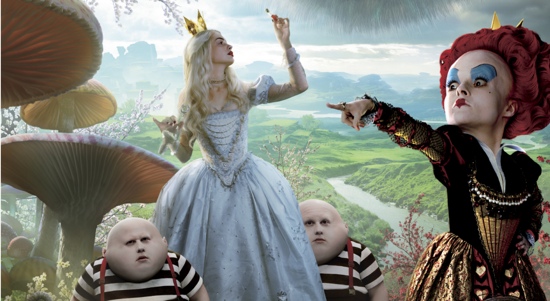 This is such a beautiful poster that it will take you places. Walt Disney has just debut a new poster from the absolutely gorgeous film. Disney has already asked fans to join the army of the Mad Hatters on Facebook to build an army for Mad Hatter.
The first banner features the beautiful Anne Hathaway who seems to be lost in thought in the last couple of weeks.
Finally Walt Disney has come out with an official synopsis. The film is made from the mind of Tim Burton one of the greatest directors of our times. Alice in Wonderland tells the story of 19 year old Alice played by Mia Wasikowska who returns once again to Wonderland.
She reunites with her childhood friends: the White Rabbit, Tweedledee and Tweedledum, the Dormouse, the Caterpillar, the Cheshire Cat and then awe inspiring Mad Hatter played by the spirited Johnny Depp. Alice embarks on a journey to unlock her true destiny. The film is supported by Anne Hathaway, Helen Bonham Carter and Crispin Glover. The film was written by Linda Woolverton. This is surely going to be spectacle to be marveled in the big screen with its eventful imagery.