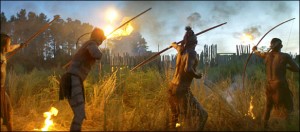 Great news for all the fans of the director's work: He will be beginning work on his next film as soon as fall this year. This is probably the first time he has jumped on a project as soon as the first one is over. Terrence Malick was fast tracking his last project which starred Brad Pitt as the main star. The film will be ready before the Cannes Film Festival this year.
Christian Bale who had a role in the director's Pocahontas adaptation The New World will return for this one. The other stars in the film are Oscar winner Javier Bardem, Rachel McAdams and Olga Kurylenko are also on board for this one. There are so many Malick projects which are still in the pipeline. But there is some confirmation on this project from many quarters.
This will probably be the end of the details in this project. Terrence is known for his elusive way of doing things. Terrence Malick's is almost done and it will surely have the much awaited Cannes Premiere and will get an early fall release date by Apparition. Another film also in the works is the Voyage in Time the IMAX documentary that is a companion piece of sorts to Tree of Life that will also see a release soon. The film will have several scenes taken for this film.
This is going to be really a feast if we get both the films coming out this year.