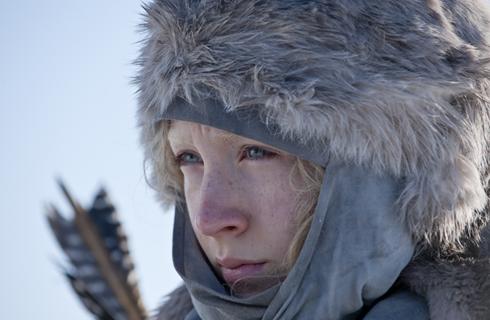 Bourne needs to watch out. Saorise Ronan is all set to take over the mantle with Hanna. She will be slaying all the men around in her next film directed by Joe Wright called Hanna. She will be playing a young teenage assassin. We had already featured some images of the other characters in the film except for the main character.
So to see the lovely Saoirse Ronan in her powerful avatar is really a treat. She is really the extreme when comes to child actors. Never before has a child star has been so powerful since Haley Joel Osmont. It will be something special to check what she does with this role. She will be playing a East European Assassin on a mission which goes wrong.
I think her presence got Eric Bana and Cate Blanchett in the cast. Hanna is raised by her father to be a cold blooded killing machine. This first look really got everybody talking and sees the potential of this film through her eyes. The film has been shooting all over Europe and will continue till the summer. Some of the locations are very extensive. Many of the scenes we show over here are shot in Finland. Blanchett plays an icy intelligence operative overseeing her mission.
Joe Wright really needed to get into action after showing such promise with his adaptation of Atonement. So it will be something for him to get into the action. We will be certainly being following this latest development by the director.