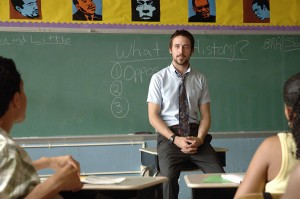 Ryan Gosling is in talks to star in the next movie directed by George Clooney. It will be called Farragut North. It is an adaptation of the 2008 play by Beau Willimon. It follows the exploits of a young marketing master Stephen Myers, who does whatever possible to get his candidate the presidential against a rival senator.
Gosling will be playing a young communications director who works for a fast rising presidential candidate. The project will still be at Warner so it will provide easy access for George Clooney to take on this project. Right now the project is in George Clooney's production company called Smokehouse Productions. The film is expected to come out as early as March 2011.
The actor Gosling will be perfect for George Clooney to bring out a nuanced character.