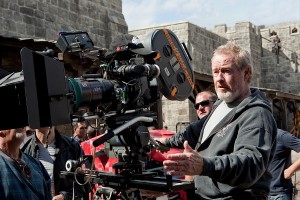 It was really a matter of chance that Ridley Scott got to direct this ultimate folly. Robin Hood gets into the action without even sparing us the credits. There is really no time for anyone to breathe here. The actors are made to work mouthing their lines mechanically. Swords are getting lashed out on bodies that don't seem to get injured in a totally spaced out timeline.
The pain of watching of Cate Blanchett taking up something so mediocre is really not healthy for the eyes. The film even goes out to desperately seek out a sequel. It is really a wasted effort on the part of everyone. Why was there even a stage set for these horrible looking atrocities? It was like a feeling I lost.
There was not even moment to talk about but there were several unintentional moments. What was going on in the old head of Ridley? I guess he was trying to run away with this one and people would miss it like all the other blockbusters coming out this year. None of them coming out this year can put their finger on the pulse.
The audience will soon get weary and there will be lesser attendance. The studios will be forced to bring more film into the repugnant 3D format. Films are going through a transition these days. It is transition that is trying to make room for technology. It will be more of a concentration into the technique and loss of cinematic pleasures. These days it is more of a question of what kind of blow up the film will have and not what the bloody story or plot is about. What if there is no time for technique or story then what do you get. Nothingness perhaps!
It will take a lot from these directors who have been conditioned by the studio to make errors. Errors of choice, thought and conversions; will truly cinema too far away from us now. Is it going to need a drumming of thought through violence or high concept mental conundrums?
Finally coming back to this horrible film; what can I say? It was a mistake with a judgment of penal servitude to all the collaborators like the character portrayed by the worn out Russell Crowe. He looks tired now after working on all films with his collaborator Ridley. The puzzles in the film seem to show too many cracks that just spread through the whole scheme of things.
The biggest issue with the film was how to direct it. All the approaches which it was attempting had already been used to death. They were behind not making the film like another Dark Knight or Gladiator. So it was stuck at the points of the edges. There was only blood spilt and began to spread through all that Robin Hood begun to touch around him. Blood became more like grotesque sounds of horrendous imagery.
There was a whole of plot devices left for us to decipher including horrible accents. After a while there were members in the audience asking on what Russell was talking about. It was really a treacherous outcome to the proceedings. The action could not even save this by then people had left.
[rating:5/10]