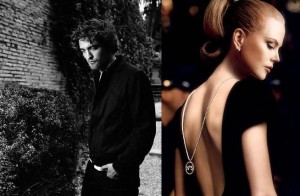 Twilight sensation Robert Pattinson is going to join the uncanny Nicole Kidman in Bel Ami. The film will be based on Guy De Maupassant's erotically charged story of ambition, power and seduction.
Nicole Kidman still refuses to let go of her originality. The film she has been acting in the last couple of years has still her classic touch to it. Her presence can still not be blemished after all these years. She really refuses to change herself as a woman of substance.
UK theatre directors Declan Donnellan and Nick Ormerod are directing from a screenplay by Rachel Bennette. The film will be produced by Uberto Pasolini. The film will begin shooting in London and Budapest from Feb next year.
The duo Donnellan and Ormerod will be making their feature length debut with this story. It tells the story of a young man's rise to the top of Parisian high society in the 1890s. He wins the prestige by sleeping around the beds of some of the most influential women of his time.
The film has a contemporary resonance unlike anything seen before on screen. Guy De Maupassant is one of the writers who keep channeling the surreal aspects of eroticism and chance encounters. There is also a whole lot of exploration of ones self.