Starring: Rahul Bose, Raima Sen, Moushumi Chatterjee, Chigusa Takaku
Directed By: Aparna Sen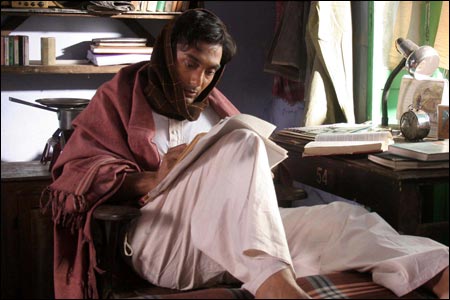 Love conquers all
Someone said.
In the past this was more often than rarely proved by so many ever-lasting love stories and epics. Before the rise of the internet as the nectar of life for most mortals, letters ruled a fairly large portion of one's life. Receiving a letter from someone unexpectedly not only brightened our mundane lifestyles but it also sometimes became the sole purpose of living.
This is what stood out as a not-so-sore thumb in The Japanese Wife. Directed by Aparna Sen, the movie is the adaptation of a novel written by Kunal Basu. The story is about a school teacher, Snehmoy who lived in a village on the shores of the river Matla in West Bengal and his wife, Miyage who lived far away in Japan.
Their friendship began through the bygone tradition of 'pen pals' and developed into something so strong that no amount of distance, difference in culture, language barriers neither frustrations of physical intimacy deterred their determination in being each other's loyal companion.
The shy, soft-spoken Snehmoy lives with his maashi, his mother's sister. Having lost his parents in the floods created by the raging Matla, and having no siblings for company, Snehmoy resorted to friends through letters. He found companionship in the form of a young girl living with her ill mother in Japan. Beginning with cordial introductions, the letters begin to creep into their lonely lives as a source of joy – each awaiting the other's response, however long it may take.
Eventually, they reach the same conclusion that they were each other best friends, if not the only friend and decide that they be married.
Distance, finance and responsibilities came as no hindrance as they exchanged their marriage vows through traditional rituals over the postal system – a ring for Snehmoy and bangles for Miyage as per Bengali customs. The marriage goes on for years until small issues begin to sprout.
Miyage falls seriously ill and Snehmoy feels the presence of a very young widow and her son in his home distracting from his loyalty to his wife… only going to prove the small, irrelevant issues facing any, typical marriage.
The movie ends on a sad note but it also makes us feel at peace – something like smiling as we weep.
Critically speaking, the movie had all the signs of a deep, symbolic description of a gripping story by Aparna Sen, something she follows in all her projects. The film featured Rahul Bose as Snehmoy and Japanese actress Chigusa Takaku. The role of maashi was played by Moushmi Chatterji and the young widow was Raima Sen. The picturisation was brilliant – the 'moods' of the river matla shown as explicitly as she could, making us wish for an instant a life on its shores.
The language used was Bengali and there was no sign of made up Indian film-style acting – just simple people living in a simple village during simple times – something that Indian cinema doesn't see to often these days.
The music was a perfect balance with a combination of rhythms of India and Japan.
A common review of watching novels being made into movies is that the latter never reaches the mark of how the author describes it. The movie was a really good watch … and although there is no more suspense left, reading the book now might give a different perspective. Worth a try, still.
[rating:7.5/10]