**This review has minor spoilers.**
Love is when the other person's happiness is more important than your own.

H. Jackson Brown, Jr.
Human beings live in societies whether they like it or not. Some people like being in their society, while others hate being in theirs. And then there is a third group of people who stay silent by trying their best to fit in. Our protagonist Shu (Liang Cuishan) belongs to this group. Shu is someone who seems to fit well in her society. She is a devoted partner to her fiancé. She leads a mundane life and takes care of him in a dutiful manner as scripted by society. But what happens when someone living in this kind of bubble gets out, finds happiness outside her comfort zone, cherishes every moment of it and soon realizes that the past few years of her life might be a mistake? Till Love Do Us Part is Director Ran Li's exploration of life and love amidst the backdrop of societal beliefs and how the pressures of expectations can steer someone's life in the wrong direction.
Ran Li in her debut feature film has created a simple artistic piece of cinema that defines silent realism. The scenes that hit you the most are the ones that have no dialogue. Just like the protagonist's exploration of art in Europe, Ran Li paints every image in this film very slowly and organically by using natural light whenever possible. This is what sets this film apart from other films with similar storylines. Every shot is minimal but there is a lot of creativity and depth in them. The sunset shots in particular pay an ode to Terence Mallick who is a master when it comes to only using natural light in his films. The shot of Shu smoking a cigarette outside on her way back from work, during sunset, is one such example. The colors and tone of this film are beautiful and feel in sync with the protagonist Shu who is tender, honest, and perfect in her own way.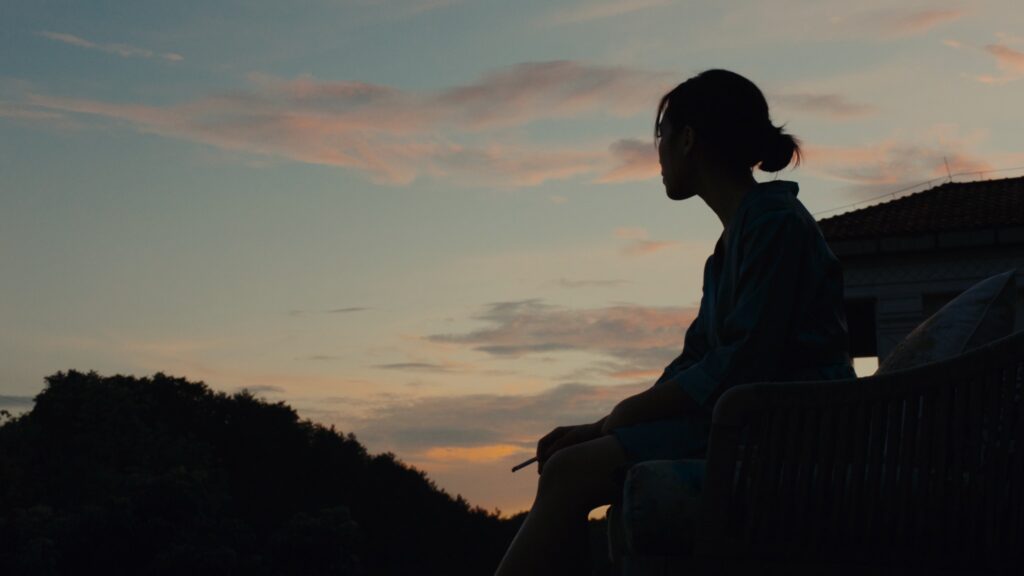 Shu is a lecturer teaching Urban Planning at a school nearby. Her fiancé Hu (Ren Bin) works in finance and comes from a rich and reputed family who are the darlings of their society. They attend a friend's wedding party where the parents of the bride and groom end up arguing over money spent on various expenses. This results in the wedding being called off. The dinner talk gives us a glimpse into what matters to everyone in this society. It is the money, fame, status and ego that define how this society views everyone. Shu mostly keeps to herself and is silently hating it. She does not want to voice it and prefers to play along. We later see her in Prague as a working scholar taking an advanced course in Urban Planning. One evening, she fatefully meets a Chinese man who introduces himself as Fan (Zhang Ninghao).
Fan is a very ambitious theater director who knows what he wants. He does not want to be bogged down by a stereotypical career. Shu is smitten by Fan and secretly begins to admire him. He is everything she wants to be since he does not try to be someone else. She starts to unknowingly do things that she otherwise would never do back in China. There is an air of spontaneity around her. She has a spring in her step and begins to experience those feelings she thought she lost. She longs for true love, the desire to be held and kissed passionately, all of which left her relationship years ago. But, she has a fiancé and that thought comes with a certain level of fear. She knows she is going down a path that will change her life, whether right or wrong. This dilemma is what triggers her life choices and sets up the rest of the film.
The ending of this film will leave audiences wanting more. The movie starts and ends with Shu sleeping. However, there is a big difference. The world Shu is waking up to is very different in both cases. The ending of this film is far from a happy one. It is a hopeful one. The hope is that Shu has learned from her life experiences in an oppressive, expectation-driven society to widen her horizons and explore things that make her happy thereby growing into a new individual along the way. The screenplay is very tight and is the strength of this film. The background score is very alternative, especially for the scenes in Europe, transporting us through Shu's changing life script. Although similar stories have been told before differently (Midnight in Paris, Before Trilogy, Roman Holiday, etc.), Ran Li has made something very unique. It seems to be very reflective of her own life's journey as she pursued education in Europe.
The cinematography by Hu Chen is bleak but magnificent. Hu was not trying to make it over the top and, at times, served delicious documentary-styled shots. Liang Cuishan did an excellent job of bringing out all the emotions trapped in Shu's head. She starts off being very subdued, respecting the traditions and customs of Chinese culture. As Shu begins life in Europe, there is a conflict in her mind and Liang tactfully portrays those subtle nuances which makes us feel for her character. Shu reminded me of the characters played by Maggie Cheung and Tony Leung in Wong Kar Wai's In the Mood for Love. All these characters show a muted desire to be loved leaving an aching impression on their tragic love stories. Ren Bin as Shu's fiancé Hu does a decent job as the poster child everyone wants to be within their society. Zhang Ninghao gives an enigmatic performance as someone very dedicated to his craft. His character arc is not as predictable as he sees himself as an open book with nothing to hide.
Till Love Do Us Part is a very personal film by director Ran Li who understands the importance of telling personal stories. A story that pits a traditional culture against a modern open-minded one. One could argue that Ran Li did not take enough risks with this film. I disagree since the story is told from a fresh perspective keeping the viewer engaged at all times. The pacing of the film is perfect and there is never a dull moment. Till Love Do Us Part is one of the best feature films to debut in the festival circuit in recent times. There will be questions asked of Shu's decisions but that is what makes this film authentic. The reality of going against the image that people perceive as necessary in a society is a gutsy choice that very few people can go through with. In the end, the question we have to ask ourselves is whether we are happy with the life choices we have made and what can we do differently going forward.