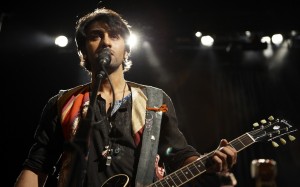 After years of casting hell Anurag Kashyap has finally got Ranbir Kapoor on board for his next film Bombay Velvet. Ranbir has been choosing his roles really carefully after his spring of awards this season for role in Rockstar. Every film maker wants to cast him in his movie.
He will be next seen as a deaf and mute in Barfee. The actor says "There is no process in selecting the kind of work I do. I'm fortunate to be working with some of the best filmmakers. The script of Bombay Velvet just fell into my lap. I read it and I knew immediately that I wanted to be part of Anurag's grand vision, his innovative storytelling, his movie making process; everything that he does so perfectly.
He adds that it is too early to say anything more of the film. He also added that he wouldn't miss an opportunity to work with Anurag. The film tells the story of how Bombay became a metropolis and is set against the backdrop of love, greed, violence and jazz. It will recreate the city in its glory, from the 50s to early the 70s, and all is set to go on floors in October. Anurag says that this is his first film in the trilogy before the city became a metropolis. Anurag has been developing the film for about four years. He will be shooting by the end of this year.
The film is based on historian Gyan Prakash Mumbai Fables, and written for the screen by Gyan Prakash, S. Thanikachalam, Vasan Bala and Anurag Kashyap. Amit Trivedi will be joining the group for the music, including a few original Hindi Jazz Tracks, which will be created in New Orleans studio.