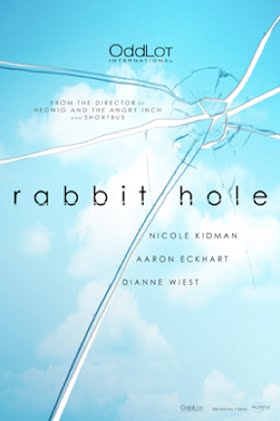 This film has been in production for sometime now. John Cameron Mitchell has been pulled to make this film for Nicole Kidman. She has been an avid fan of his work like Hedwig and the Angry Inch and Shortbus. Both of these films made him get a huge cult following.
Rabbit hole will be the first time he has worked with stars like Nicole Kidman, Aaron Eckhart, Dianne West and Sandra Oh. The film is adapted from the play by David Lindsay Abaire from his work. It is about a couple's fraying relationship as they struggle to cope with the death of their young son. Here is a synopsis which will keep you interested.
Becca and Howie Corbett are a happily married couple whose perfect world is forever changed when their young son, Danny, is killed in an accident. Becca, an executive-turned-stay-at- home mom, tries to redefine her existence in a surreal landscape of well- meaning family and friends. Becca's experiences lead her to find solace in a mysterious relationship with a troubled young comic-book artist, Jason. Becca's fixation with Jason pulls her away from memories of Danny, while Howie immerses himself in the past, seeking refuge in outsiders who offer him something Becca is unable to give.
The film is often darkly humorous exploration of love tested by tragedy. It will be sort of the anti of Anti Christ. This is surely going to be something to look forward to.
The film will have a release date soon. It is being scored by Abel Korzeniowskil who is known for his work on A Single Man. So it will be one of the Oscar hopefuls for next year. 4QCURJP5JY7S