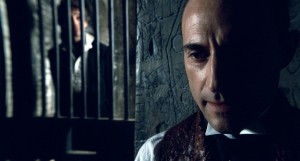 Warner Bros is all set make a splash this Holiday Season with Guy Ritchie's Sherlock Holmes. The film will be the biggest thing after the Avatar film. People are running around searching for what they can watch this last couple of weeks. Sherlock Holmes has been getting some really good press in the last couple of weeks. So with stars added into the fray it is going to be something special.
This will be the first film in the franchise. It is going to be stunning many of the fans of the books. The cast includes Jude Law, Robert Downey Jr and Rachel McAdams. The cast has really shined in many of the trailers of the movie.
Sherlock Holmes has made his reputation finding the truth at the heart of the most complex mysteries. With the aid of Dr. John Watson, his trusted ally, the renowned "consulting detective" is unequaled in his pursuit of criminals of every stripe, whether relying on his singular powers of observation, his remarkable deductive skills, or the blunt force of his fists.
Click the images to get the enlarged high resolution ones
But now a storm is gathering over London, a threat unlike anything that Holmes has ever confronted…and just the challenge he's looking for.
After a string of brutal, ritualistic murders, Holmes and Watson arrive just in time to save the latest victim and uncover the killer: the unrepentant Lord Blackwood. As he approaches his scheduled hanging, Blackwood–who has terrorized inmates and jailers alike with his seeming connection to dark and powerful forces–warns Holmes that death has no power over him and, in fact, his execution plays right into Blackwood's plans.
And when, by all indications, Blackwood makes good on his promise, his apparent resurrection panics London and confounds Scotland Yard. But to Holmes, the game is afoot.
Racing to stop Blackwood's deadly plot, Holmes and Watson plunge into a world of the dark arts and startling new technologies, where logic is sometimes the best crime-fighting weapon…but where a good right hook will often do the job.
In a dynamic new portrayal of Sir Arthur Conan Doyle's most famous character, Robert Downey Jr. plays the legendary detective Sherlock Holmes. Revealing fighting skills as powerful as his famous intellect, Holmes employs his own unique methods to get to the heart of a case, traveling where no one else would think to go to find what others cannot see.
Jude Law portrays Watson, Holmes's longtime colleague, who is joining him in what may be their last case before the doctor starts a new life as a married man. Rachel McAdams is Irene Adler, a woman from America, who is as alluring as she is dangerous, and whose tempestuous relationship with the detective has become the one puzzle he cannot solve. Mark Strong plays Lord Blackwood, whose own intellect, combined with merciless ambition, makes him a formidable adversary. Eddie Marsan appears as Scotland Yard's Inspector Lestrade, who is both impressed and frustrated by the great Sherlock Holmes.
Warner Bros. Pictures presents, in association with Village Roadshow Pictures, a Silver Pictures Production, in association with Wigram Productions, a Guy Ritchie Film, "Sherlock Holmes." Ritchie directed the film from a screenplay by Michael Robert Johnson and Anthony Peckham and Simon Kinberg, screen story by Lionel Wigram and Michael Robert Johnson. Joel Silver, Lionel Wigram, Susan Downey and Dan Lin produced the film, with Michael Tadross and Bruce Berman serving as executive producers and Steve Clark-Hall co-producing.