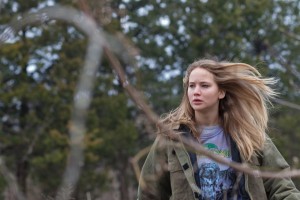 Jennifer Lawrence got a lot of eyeballs after her performance in the Burning Plain alongside Charlize Theron. The film didn't else to offer except for her performance. Now her next film is called Winter's Bone. It is based on a novel by Daniel Woodrell.
The book tells the story of a poverty stricken community living in the hills of the Ozarks. Rees Dolly is a 17 year old struggling daily to care for her two brothers and an ill mother. When she learns that her absent father, a meth addict, has put up the family home as a bond, she embarks on a dangerous search to find him and bring him home for an upcoming court date.
Click the images to get the larger sizes
Rees' relatives many of whom are in the business of cooking crank thwart her at every turn, but her fight to save her family finally reaches a great conclusion. Rees is really tough and yet tender. She tries to teach her brothers how to shoot a shotgun. There is a lot of human condition thrown in beautiful measure into this unforgettable story. The film is directed by Debra Granik. It is a beautiful mountain story that needs to be watched to be believed.