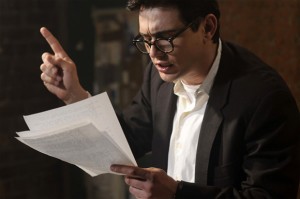 I was sorry for the first pictures that came out for this film. The cast is exquisite and the producer who has been overlooking many of the concepts of the film is Gus Van Sant. But why couldn't he direct this film. Why did a film of this poem ever see the light of day?
Alan Ginsberg inspired loads of people to think freely and even write like there is no tomorrow. Now they are trying to write a film adaptation of his life. Let his life remains in the annals of libraries with torn sheets and burnt out print.
Click the images to get the high resolution ones
Howl stars James Franco as the poet Allen Ginsberg alongside Mary Louis Parker as Gail Porter, Jeff Daniels as Professor David Kirk and David Strathairn as Ralph McIntosh. The film also stars Aaron Tveit as Ginsberg's friend Peter Orlovsky. The news is even riper with release dates getting possibly pushed for a Sundance release.
The film is written by Rob Epstein and Jeffrey Friedman and was executive producer by Gus Van Sant. He plays Ginsberg as an unsure young man who never quite finds his way. The three part poem Howl is a really powerful piece. The film will surround the trial that led to the publication of this controversial poem.