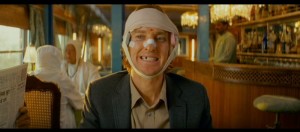 Owen Wilson has been recently into a lot of dog movies. After the successful Marley and Me, he is now set to act as a dog Marmaduke. It is going to be a live action/CG adaptation of the comic strip. It is sort of a love story between a small rift between Mutts and Pedigrees. So he has to remove this obstacle in order to woo his lady love.
The film will be directed by Tom Dey. He has made movies like Shanghai Noon and Failure to launch so this will fit right in. Wilson bears a slight resemblance to the mischievous dog but why do they have to make a movie on this is still not sure.
The cast will also include Lee Pace, Judy Greene, William H. Macy as the humans (who are you kidding). Fergie, Emma Stone, George Lopez, Christopher Mintz-Plasse, Steve Coogan and Damon Wayans will play the dogs.
This is just a sorry excuse to get big actors to be part of an animal story sweet. I can't wait for things like Felix the cat and probably Swat Cats as well. Man this is going to be a sorry sight in couple of months.