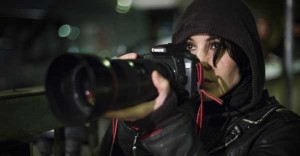 Noomi Rapace is really getting the roles she is looking for. She will be cast alongside Robert Downey Jr and Jude in the sequel to Sherlock Holmes. She has also got a chance at the Oscars this year with her portrayal as Lisbeth Salander in the Girl with the Dragon Tattoo series.
Rapace has officially landed her first high profile role in a straight up Hollywood blockbuster opposite the two stars. The plot is still not revealed, but we know that Holmes and Watson will be squaring off against their arch nemesis Moriarty, and that Rapace will play the lead female, though she won't be replacing Rachel McAdams as Irene Adler. She will not be playing the main character.
Rapace will play a French Gypsy. Guy Ritchie will also be returning as director, and other new characters to be introduced include Holmes brother Mycroft. Sherlock Holmes 2 is due out on December 16 th, 2011.