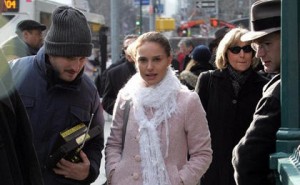 In the next couple of weeks there is going to be a lot of talk about the next film by the directed Darren Aronofsy Black Swan. It has taken the center stage at various film festivals and will be releasing this week. The film stars the much talked about performance of Natalie Portman. She has really become a front runner in the award season this year.
The film is laden with beautiful striking imagery and really well paced. So it will be the film to watch out for in the coming weeks. We will be tracking its release in the coming weeks with unique take of the film.
The scene you just saw above takes place on the stage before an audience for the first time embodying the spirit of the Black Swan in Swan Lake, the sinister, seductive, powerful swan.
Natalie Portman's character begins to struggle with herself through length of the movie and almost losing herself in the process. It is really interesting to check out such a young actress in a role that might just define her career.