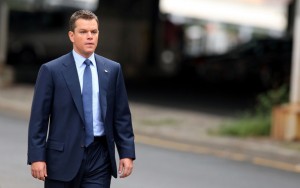 Matt Damon is all set to star as Robert F Kennedy for a new film on the man. The film will be directed by Gary Ross and Steven Knight who is infamous in writing for Dirty Pretty Things and Eastern Promises, The film will be adapted from the Evan Thomas penned biography His Life.
Ross burst into Hollywood as the screenwriter and co producer of Big. He also co wrote films like Mr Baseball, Dave and Lassie before making his feature length debut with Pleasantville. He also directed the beautiful Seabiscuit.
Here is synopsis of the Thomas' book:
Ted eulogized him, "saw wrong and tried to right it . . . saw suffering and tried to heal it." Then there was the Bad Bobby, "the ruthless and manipulative bully of countless conspiracy theories. Thomas' unvarnished but sympathetic and fair minded portrayal is packed with new details about Kennedy's early life and his behind the scenes machinations, the Cuban missile crisis, and his long struggle with J.Edgar Hoover and Lyndon Johnson.
Matt Damon will be pitch perfect for this role. Keep looking out for posts on this one.