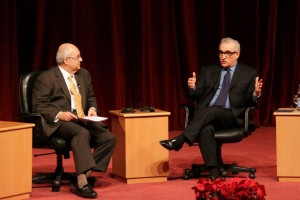 The filming of Hugo Cabret is about to start and now we have some of the final entries into the cast including Jude Law, Ray Winstone, Chistopher Lee, Frances de la Tour and Richard Griffiths.
The cast already has Ben Kingsley, Sacha Baron Cohen, Chloe Moretz and Asa Butterfield. The film will be based on the graphic novel by Brian Selznick. It tells the tale of an orphan boy living a secret life in the walls of a Paris train station. Things begin to change for the character when he encounters a broken machine, an eccentric girl and the cold, reserved man who runs the toy shop. This is the moment when he is caught up in a magical mysterious adventure that could put all his secrets at risk.
Now there is also a description of what each actor will play. Sacha Baron Cohen will take on the role of the station inspector; Ben Kingsley will play the silent filmmaker George Melies while Asa Butterfield and Chloe Moretz play the male and female lead roles.
Now here comes the shock Martin Scorsese wants to push 3D to the future. He seems to feel that the films like Alice in Wonderland and Avatar have not really pushed the bar. So according to his longtime editor Thelma Schoonmaker Martin will be going a little bit further with it.
Schoonmaker has also revealed that the film will be a lot more visual with very little dialogue. It will be a whole new movie going experience.
The film will be expected to release sometime around December next year. So it will be just in time for the Oscar season.