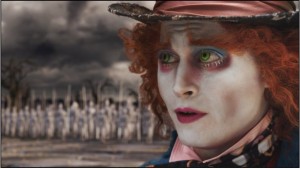 Terry Gilliam has influenced a lot of people in the last couple of years. The latest to be influenced is Johnny Depp for his role in Mad Hatter.
Johnny Depp revealed that he often finds inspiration for his characters by connecting them to certain songs. For the Mad Hatter, Depp's old friend Terry Gilliam turned him on indie rockers Sunset Rubdown, passing him an album of theirs which given the time Alice In Wonderland was shot. On the disc Depp found some great songs on there that just defined the Hatter for me perfectly.
You can watch the full interview where Johnny Depp revealed these details and also a sample of Subset Rubdown's music "A Day in the GraveyardII" to give you an idea of what was possibly swimming through Depp's iPod.