The director who directed R.I.P.D is the director of Insurgent, that goes to show how not serious the studio is with making a half decent film but to make a totally bad movie just to make some box office cash. Last year's Divergent was a film that not even its skilled director or high ambitions could fix the problems of its source material. The sequel, Insurgent, is a way different movie, since it's now handled by someone who is known for stylishly dumb action films. The film has gone to that same direction as well. It can be both a good and a bad thing; it elevates the entertainment value, but also leads to a lot of ridiculous ideas. It's quite hard to call it a better film since it has lost the intriguing flavor of its predecessor, but many would call it more fun, but the YA genre has its own way of appreciating its viewers and this straightforward action movie approach would hardly be described as anything more than an impressive spectacle for these movies.
For its credit, this movie has more plot than the first one. We get to see the heroes explore more places even though it no longer lingers in its innovative ideas. But for an easy pleasure, the pacing is swift and the action is constant, but the story still offers some themes worth seeking out; settling into Tris's trauma and behavioral issues, and then some social commentaries. The former is often played out with bombastic bad dream sequences while the latter is understated by making its conflict look like any generic corrupt governments. But the real trouble here is how both of its core and its action don't mix well together. Putting its serious situations next to a stylish action scene just makes it look silly as a whole. But it does have a clever additional climax, while preposterous, it still manages to somewhat resolve the arc of Tris.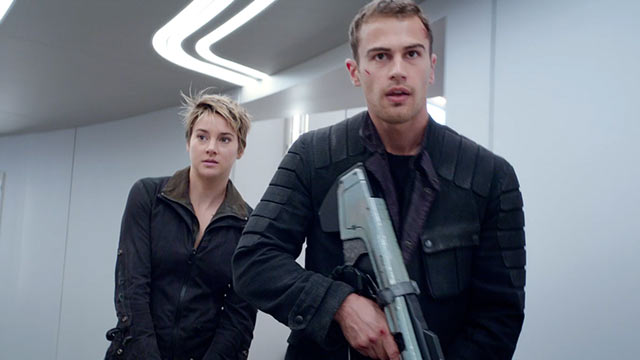 The best strength of the film lies on the performances: Shailene Woodley still buys into her character. She exhibits Tris beyond to what is now written to the character. The villains have become the lesser of themselves, but that fact is indeed surpassed by their talents; with Kate Winslet giving a sense of humanity to the suddenly unreasonable Jeanine, while Miles Teller brings a measure of levity in Peter. Other great stars like Naomi Watts and Octavia Spencer are underused and yet brought an impact in their scenes.
Insurgent is not a good movie, but the viewers might value it as one of the rare not-good young-adult movies that isn't boring. I mean many YAs are bad and dull, it almost becomes unbearable. This one however would only be bragged about its silliness and sometimes laughable choices that instead becomes a guilty pleasure. There are some cool action and all, but again this genre asks for something beyond spectacle and maybe sophisticated, and there were only few movies that got it right, so far. Because it's possible to get past by the romantic clichés or the same dystopian future/revolution tropes. The source material may not be that great, but it still considers some interesting things that a film adaptation could transcend, but the pretentious action really gets in the way and that doesn't necessarily justify its deeper potentials. It may be a popcorn entertainment, but if this was labeled as another action film, it would remain not diverged.