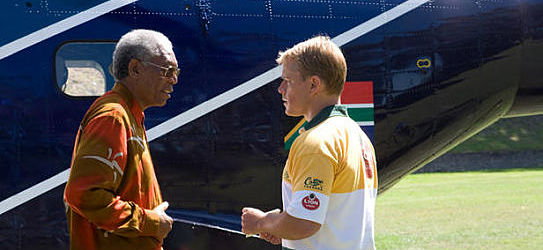 There is always a buzz around when Clint Eastwood makes a film. His films are always very realistic and often filled with soo much emotion and substance that you always have some sort of attachment to his films even after the movie has finished. This year he brings out what is believed to be another Oscar worthy film Invictus starring Matt Damon and Morgan Freeman. Check out the poster Below.
Newly elected President Mandela (Morgan Freeman) realizes that his country is divided racially and economically in the wake of apartheid. So, he joined forces with the captain (Matt Damon) of the South Africa's rugby team in a bid to unite his country with a sport so dearly loved by everyone. He believed that he could bring his people together as the rugby team has an historic run the 1995 Rugby World Cup.
This movie has a wide release on December 11, 2009.