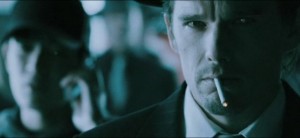 Ethan Hawke will be saying five pages of a monologue in Total Recall next. So he will get to talk a lot after some time. He was famous for his long dialoges in Before Sunrise and Sunset.
Ethan Hawke is currently working on the Broadway Play Knickerbocker and he said about his upcoming role. The lines are really good in the film and Ethan Hawke is really excited about them. Ethan Hawke will also be joining the TV show Exit Strategy as well. This is what he had say about TV "I'd be surprised if anyone ever sees that show. I really don't know about TV. I have no idea. It's all new to me. It's a total mystery,". The pilot is being written by David Guggenheim, the show is being described as a high octane procedural where five CIA experts are sent into the field to extract agents after a mission goes bad.
Hawke as expected will play the team leaderand mastermind of the exit strategy. The procedural part comes in because each episode will take place in a different country with a different crisis each week. There is also another indie film in the pipeline for Ethan Hawke called a Late Quartet. So plenty of work on his slate and it will be interesting to see what he does with all these films. Tell us what you think of these developments.