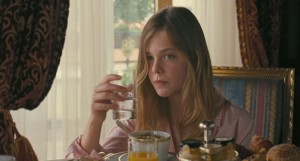 The latest darling Hollywood is Elle Fanning taking from where her sister left. She is looking out for buried treasure in the Todd Cole collaboration with Rodarte, The Curve of Forgotten things, premiering exclusively on NOWNESS today.
Elle Fanning: Rodarte's Muse on Nowness.com.
The 'Somewhere' star pirouettes through the empty room of the historic Baldwin House (which sits on an oil field in LA's Baldwin Hills), her outfits magically changing from one room to the next. The film echoes the look of some of the movies of that time like Terrence Malick's beautiful Badlands. The title is based on a Richard Brautigan poem. Check out the short and tell us what you think.