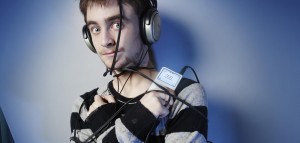 There is no more Harry Potter for this guy. Daniel is technically out of work but loaded with cast. His career must be something after the series is one of the highest grossing of all time. Daniel is already set to star in the gothic thriller The Woman in Black. The film is written by the guys behind Stardust and Kick Ass.
It is based on the book called The Woman in black: A Ghost Story. It will be adapted by jane Goldman from the writings of Susan Hill. It will be directed by James Watkins. Does anyone really for the guy who made Eden Lake?
Radcliffe will be playing a young lawyer Arthur Kipps. He is ordered to travel to a remote pocket of Blighty to tend to a deceased client's papers. Kipps begins to uncover some supernatural secrets of the house. The gothic look is said to be in right now with many trying to invest heavily in it. The shooting for the film will be expected to begin in the fall. So instead of waiting for this one we can get to see Daniel in the two part finale of Harry potter.