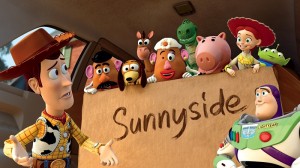 Here are some new images that have popped up for the new Toy Story 3 film. The long awaited and highly anticipated third film in the already amazing Pixar series will be soon hitting theaters near you.
The film will be released in most of the Imax theaters. So people are going to be excited to see what they have in store for the fans of the series. The release will be simultaneous for both IMAX 3D theaters and also regular theaters on June 18 th 2010. The film will be digitally remastered like in the case of Star Trek this year.
"We're very excited to once again unite Disney Digital 3D with The IMAX Experience, and to do it for the long-awaited release of 'Toy Story 3? is a real treat. A film like this is designed to take audiences on an exciting thrill-ride adventure, making it a perfect match for both 3D and IMAX."
"We have always envisioned the 'Toy Story' franchise as an ideal fit for 'The IMAX Experience' and we're very happy to finally turn that vision into a reality," said IMAX CEO Richard L. Gelfond. "This film also fits nicely into our 2010 lineup, ensuring that families will be able to start the summer holidays with a fun Disney release in IMAX."
But many people won't be really excited with what Toy Story does for the IMAX effect. The series is famous for its characterization and witty dialogues.
The images feature most of the characters in the earlier films with some new ones. Click the images to get the high resolution ones.