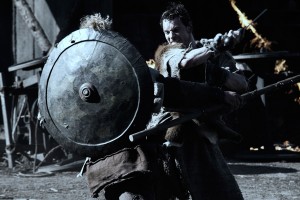 The marketing for his film has sort of died down after really bad reports coming from screenings. The new film directed by Neil Marshall. The film stars Michael Fassbender, Dominic West, Olga Kurylenko, David Morrissey, Noel Clarke, Riz Ahmed, JJ Field, Liam Cunningham and Imogen Poots. The film is already on video on demand and will be hitting theaters on August 27 th.
The film stars out in AD 117. The Roman Empire stretches from Egypt to Spain, and East as far as the Black Sea. But in northern Britain, the relentless onslaught of conquest has ground to a halt in face of the guerrilla tactics of an elusive enemy: the savage and terrifying tribes known as the Picts.
Quintus, sole survivor of a Pictish raid on a Roman frontier fort, marches north with General Virilus' legendary Ninth Legion, under orders to wipe the Picts from the face of the earth and destroy their leader Gorlacon.
But when the legion is ambushed on unfamiliar ground, and Virilus taken captive, Quintus faces a desperate struggle to keep his small platoon alive behind enemy lines, evading remorseless Pict pursuers over harsh terrain, as the band of soldiers race to rescue their General, and to reach the safety of the Roman frontier.
The film still will be a fast-paced action for those who get there kicks out of watching such stuff.
Source : Comingsoon