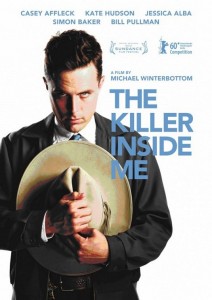 There is a lot going for this film in terms of all the controversy that this film generated. The film is another of Michael Winterbottom's stark creations. It is called The Killer Inside Me.
The Poster has just released for the film and it shows a stare from the main protagonist played by Casey Affleck. The stare brings in a lot of interesting connotations. The film was one of the most powerful experiences in this year Sundance Film Festival.
The film is an adaptation of a Jim Thompson novel of the same name and centers on a murderous small town Texan sheriff. The rest of the cast include Jessica Alba, Kate Hudson, simon Baker, Bill Pullma, Ned Beatty and Elias Koteas.
Winterbottom is really afraid for his new project because the puritan nature of the American audiences. He also plans to bring another film titled The Promised Land which will star Jim Sturgess and Matthew MacFadyen starring two British officers who go against an extreme right wing Jewish group and its leader played by Colin Firth of all people.
The Killer Inside me is already picked up by IFC Films.