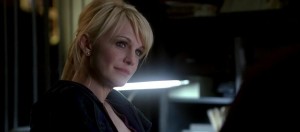 After the age old Money Ball saga the film is now in full fledged production. Brad Pitt has joined the cast and has also got his ex wife now for the film to be played by Kathryn Morris. She is known for her work on Cold Case.
She will join Jonah Hill, Robin Wright Penn and Philip Seymour Hoffman. It will be interesting to see Brad Pitt and Philip in the same film. It is going to be a comedy directed by out of work and lot of time in hand director Bennett Miller.
Kathryn's role will of a wife who loves baseball as much as she does and shares this great passion for the game.
She won't be getting that much screen time but it would be worth the trip to work with Brad on a film. Here is some info on the shooting.
They're going to be filming basically the baseball scenes…They're going to be doing daylight scenes and night-game scenes. A lot of it will be overnight and into the wee hours of the morning.