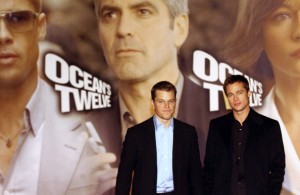 I think there will be all smiles in the George Miller camp after the announcement of the cast of the next Happy Feet. Brad Pitt and Matt Damon are said to join the animation soon. Happy Feet already featured a really big voice cast in its first outing. Now the inclusion of these two guys in the next one will make it one of the must watches of next year.
The two of them Brad Pitt and Matt Damon have already started work on their characters in the studio. They will be rejoined with Elijah Wood and Robin Williams who starred in the first film about a young tap dancing penguin named Mumble. But under the tutelage of some funky fresh penguins including Ramon and the master of funk Lovelace.
The original one also featured the voice cast of actors like Hugh Jackman, Brittany Murphy and Nicole Kidman. There needs to be no more plot details in this one. It is surely going to be something special after the last outing.