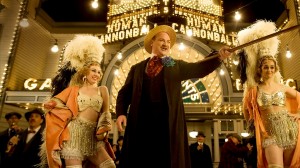 We got the final trailer for Boardwalk Empire a little late. This is officially the third look at the upcoming series for HBO. It is once again dialog laden and looks amazing. The pilot episode is written by Martin Scorsese and also the writing is done by Terrence Winter of the Sopranos fame.
The series stars Steve Buscemi, Michael Shanon, Gretchen Mol, Dabney Coleman, Michael K. Williams, Kelly Macdonald, Michael Stuhlbarg and Michael Pitt. The shots in this film looks just beautiful. They have been composed really finitely as well. Buscemi seems to love playing a tough role for once.
Michael Shannon also provides the voice-over for this one. He has only one thing in his mind to bring down the whole bootlegging trade during the Prohibition Era. This is going to be a big series for the channel and will certainly have a huge premier coming up soon.
Source: Vulture