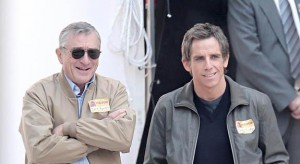 Now the Fockers will be getting a third treatment. Robert De Niro and Ben Stiller are all set to star together once again in this profane aliased family. They are all part of the family now.
Little Fockers has been getting loads of casting details in most of the blogs. But we have purposefully avoided for some actual set footage to come our way. The film will be part of next year's summer releases. So will be one of the sequels to look out for.
Paul Weitz will be part of the film's direction. After loads of people walked away from this doomed project finally Paul took it up. Laura Dern and Jessica Alba have also joined this project, David Wain will be writing the project.
The picture shows Robert De niro and Ben Stiller having a nice time laughing at the sets of the film.