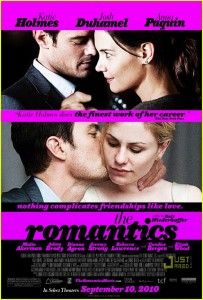 Josh Duhamel gets two pretty ladies in his next film called The Romantics. The film will be out soon on September 10.
Seven college friends reunite six years later for a wedding of Lila (Paquin) and Tom (Duhamel). Things go awry when the maid of honor and the bride clash over the groom, with whom the maid of honor was once romantically involved. The flick also stars: Adam Brody, Malin Akerman, Dianna Agron, Elijah Wood, Jeremy Strong, and Candice Bergen.
It will turn out to be one of those mushy casting coup films like Valentine's Day and He Just not that Into You. But I guess most people might just end up going for this one because of the more noteworthy cast members.
Source: Just Jared