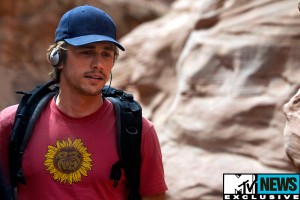 The film is currently playing at the Toronto Film Festival. So like last year when Slumdog Millionaire took the audience by surprise and also winning some of the main awards there is a chance 127 Hours is going to be one of the more interesting experiences. The film stars James Franco, Kate Mara and Amber Tamblyn.
Clip via Cinemablend via Collider.
It will be great if you guys don't know what really happened to the real life character. The new clip shows the character jumping into a surprising cliff. The film is expected to hit theaters on November 5 th.
Here is a small synopsis for the film.
127 HOURS is the true story of mountain climber Aron Ralston's (James Franco) remarkable adventure to save himself after a fallen boulder crashes on his arm and traps him in an isolated canyon in Utah. Over the next five days Ralston examines his life and survives the elements to finally discover he has the courage and the wherewithal to extricate himself by any means necessary, scale a 65 foot wall and hike over eight miles before he is finally rescued. Throughout his journey, Ralston recalls friends, lovers (Clemence Poesy), family, and the two hikers (Amber Tamblyn and Kate Mara) he met before his accident. Will they be the last two people he ever had the chance to meet? A visceral, thrilling story that will take an audience on a never before experienced journey and prove what we can do when we choose life.