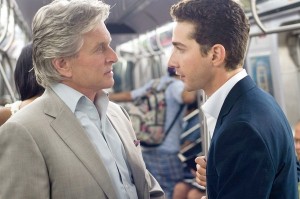 After the teaser trailer introduced some of the main players in the sequel to the cult film Wall Street. The second trailer also gets into a little more of the story that the former. This one also doesn't really reveal that much but it swings to the tune of Sympathy for the Devil.
Wall Street 2: Money never sleeps is a sequel to the 1987 film starring Michael Douglas, Shia Labeouf, Carey Mulligan, Frank Langella and Josh Brolin. The film will be hitting theaters on April 23 rd.
Here is the official synopsis from the film.
Emerging from a lengthy prison stint, Gordon Gekko finds himself on the outside of a world he once dominated. Looking to repair his damaged relationship with his daughter, Gekko forms an alliance with her fianc̩ Jacob (Shia LaBeouf), and Jacob begins to see him as a father figure. But Jacob learns the hard way that Gekko Рstill a master manipulator and player Рis after something very different from redemption.