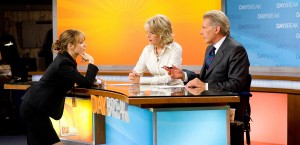 Now the trend is to get into the America Sweetheart territory. Rachel McAdams is under a lot of pressure to take the reigns of stars like Julia Roberts who were ruling the top for some time now. Now Rachel will have her turn. She is set to star alongside Rachel McAdams, Harrison Ford, Diane Keaton, Jeff Goldblum and Patrick Wilson.
McAdams stars as Becky Fuller a little overworked person in TV news broadcasting. She is suddenly fired and once again the studios trying to cash in on the current scenario of recession. She joins a last place morning show called Daybreak and turn the falling ratings around. Her character pushes the limits of where she wants the show to go. But along the way as always; she sees some life lessons in the characters played by Harrison Ford and Diane Keaton to host the failing news program.
Goldblum retains his cool as the all knowing mentor producer really it already sounds quite boring. Patrick Wilson also joins the proceedings in a wasted talent of a role. So he will play the love interest of Rachel McAdams whose relationship with her takes a bad turn with the entire on goings at work.
The film is directed and written by The devil Wears Prada writer Alison Brosh McKenna, the film just does not deliver. The film is expected to come out in November to fit nicely to the tune of some Oscar glory. Let us hope they don't succeed in their endeavors and begin to see their follies.