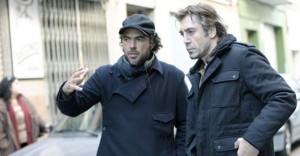 Alejandro Gonzalez Inarritu gets ready to showcase his next film Biutiful. The film boasts of a great performance from Javier Bardem. The film seems to be really energetic and has some really beautiful shots as well.
But the film seems to get Javier Bardem in line for another Oscar worthy performance. He is really a bundle of talent and someone who really cannot be underestimated. The only downer in the trailer is the use of the Lust Caution theme in the end of the trailer.
Here is a synopsis via Apple.
Biutiful is a love story between a father and his children. This is the journey of Uxbal, a conflicted man who struggles to reconcile fatherhood, love, spirituality, crime, guilt and mortality amidst the dangerous underworld of modern Barcelona. His livelihood is earned out of bounds, his sacrifices for his children know no bounds. Like life itself, this is a circular tale that ends where it begins. As fate encircles him and thresholds are crossed, a dim, redemptive road brightens, illuminating the inheritances bestowed from father to child, and the paternal guiding hand that navigates life's corridors, whether bright, bad – or biutiful.
Biutiful opens on December 29.