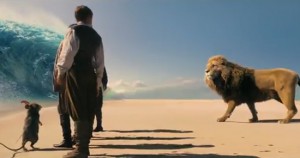 Here is another short trailer from the franchise Chronicles of Narnia. It is finally come out online. The first trailer came out long ago, but not with any fanfare. People have got tired of this franchise for some reason.
The film focuses on the character Lucy and her Book of Incantations and even showing us the Dawn Treader ship and the adventure all four siblings will be going on.
The Chronicles of Narnia: The Voyage of the Dawn Treader is directed by British Filmmaker Michael Apted. He has made films like The World is not Enough, Amazing Grace and The Power of the Game. The screenplay was written by Christopher Markus and Stephen McFeely. It is based on the third book in C.S. Lewis' famed Chronicles of Narnia series. The film will be expected in 3D on December 10 th.
Source: Firstshowing