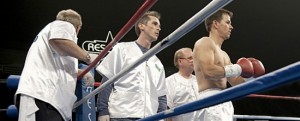 The film Mark Wahlberg has been working for more than two years. He worked hard to get this one of the shelves. The film also stars Christian Bale and my favorite Amy Adams. Darren Aronofsky was initially on board to direct this film, but he went to make the Wrestler.
Christian Bale has worked on his body once again to play real life boxer turned trainer who rebounded after a run of drugs and crime.
Here is a small synopsis.
Shepherded his half-brother "Irish" Micky Ward (Mark Wahlberg), Dicky had a Rocky-like rise to the world lightweight championship. Ward fought throughout the mid-'80s and '90s, but he's best remembered for three battles with Arturo Gotti, two of which went down as the greatest in the history of the sport. Amy Adams plays "a tough, gritty bartender and former college high-jumper" who ends up dating Wahlberg's character.
There is a lot of awards talk surrounding the film .We will have to wait and watch what will happen in the next couple of months. I am certainly sure it is not for the silly Mark Wahlberg.
Source: Slashfilm