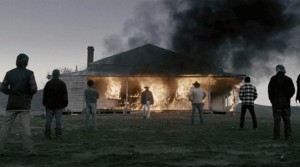 The tagline Revenge just rode into town is just something. It will not become as great as the John Hillcoat film The Proposition. But it will find a new audience. The film is called Red Hill and is directed by Patrick Hughes and stars True Blood fame actor Ryan Kwanten.
It is essentially a story about a police officer who moves to the small country town of Red Hill, but on his first day on the job, there is a prison break and a convicted murderer serving life behind bars makes his way out to seek revenge. It looks like the Australian version of No Country for Old Men, but shot mostly in the night.
The film is expected to come out on November 5 th.