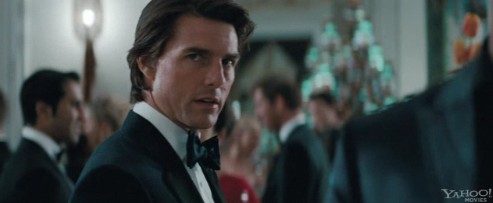 Tom Cruise will be working on an adaptation of Lee Child's book One Shot. He will be teaming up with writer and director Christopher McQuarrie. The film will shoot in early fall.
Tom Cruise will have to bulk up for the part. In Child's novels, the character Reacher is a monster of a man standing tall and weaighing around 250 lbs, with sandy blonde hair and a domineering presence of the kind that makes people turn around in restaurants to see what just breezed in the door. He is also a loner who moves town to town with nothing more than literally the shirt on his back and a few bucks in his pocket. His military training makes him a dangerous weapon and he can often tear apart more than one person at once with ease.
One shot is the 9 th book in the series. Reacher is drawn into the case of a military sniper accused of five murders, and discovers a twisty cover up along the way. Child's books are quite the page turners. McQuarrie is known for his work in movies like The Usual Suspects, Valkyrie and the Mission Impossible film.
Cruise is also on board to work on Joseph Kosinki's science fiction film Oblivion early next year. So the rest of the cast is still not finalized for the film.