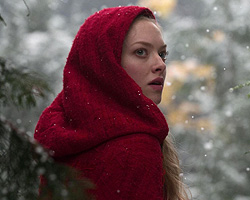 Catherine Hardwicke left the Twilight franchise and started work on her Red Riding Hood adaptation. It gets a mysterious Twilight treatment and it will assure a lot of fans to get to the theaters.
Leonardo DiCaprio was the one who suggested giving this age old fairytale the twilight treatment. The film stars Amanda Seyfried as the title character. The star cast also includes Gary Oldman. Leonardo DiCaprio was quoted as saying," Wouldn't it be cool to do a Gothic twist on Red Riding Hood, with the wolf being a werewolf, and just have a cool, sexy romantic thriller?"
The trailer has been edited by a great deal to get this look for it. So we will have to expect from this film in the coming months when the publicity will be in overdrive.