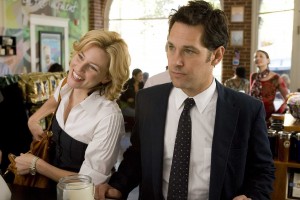 Now there are enough lovely ladies filling up the Paul Rudd starrer called My Idiot Brother. The film will now star Elizabeth Banks, Zooey Deschanel, Emily Mortimer and Rashida Jones. The film is directed by Jesse Peretz directed comedy about an idealist who crashes at the homes of his three ambitious sisters played by Banks, Deschanel, and Mortimer and brings truth, happiness and a sunny disposition into their lives while also wreaking havoc.
The characters these women play are pretty sad clichés. Elizabeth Banks will play a career driven single woman who is about to get her big break in journalism and spending years writing about accessories for a fashion magazine. Deschanel is a bisexual whose tendency towards flakiness and lying are getting in the way of moving forward with her caring responsible girlfriend. Finally we have Mortimer will play a Park Slope mom too worried about having the perfect life and children to notice that her marriage is falling apart.
So will there any space for the main character played by Paul Rudd. So the Idiot Brother will be a tad boring or refreshing it will depend on the director. It will be up to Paul Rudd to take this film on his shoulders.