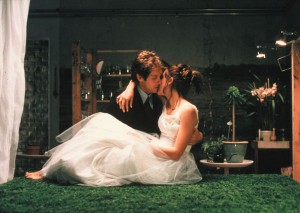 Erin Cressida Wilson gets a lot of eye balls rolling after her work on the Secretary in 2002. It has a small cult following in the last couple of years because of the way it was treated. It will be talked about for some more years but it still eluded any kind of commercial sense. Now the writer's profile will be up on top with a notice from Oprah and Harpo Films who want to produce a TV show for HBO. The story will about a woman who leaves her family to fulfill some of her sexual fantasies in LA.
Wilson will be scripting the pilot and the inception of this show is one of the high priorities for HBO. The hour long series will follow a woman who leaves her seemingly perfect marriage and children in Santa Monica for the underbelly of L.A., where she indulges her secret fantasies and desires.
It is unsentimental and pretty shocking, and there is something complicated and destructive driving her. It is literally a day at the pool, where she gets up, in sarong and flip flops, and walk out of her life, leaving everyone behind so abruptly that her husband and kids initially think she has been kidnapped and murdered.
Wilson meanwhile, has a couple other projects going now. She wrote Chloe for Atom Egoyan but it has not received really good acclaim after it was screened at the recently concluded Toronto Film Festival. But still Roger Ebert was kind enough to actually call the film one of Atom's greatest work.
Wilson will also be working on The Resident in post right now, which features Jeffery Dean Morgan, Hillary Swank and Christopher Lee in a story about a woman who realizes her Brooklyn landlord is obsessed with her.