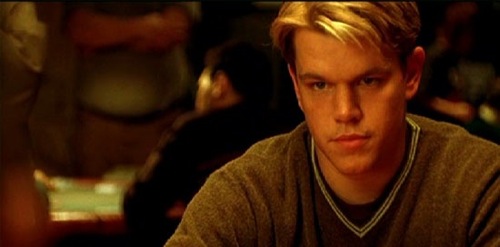 Since Texas hold 'em became the game to play at casinos and around the world, as well as at online casinos, films following this strain of poker have become immensely popular. As such, Rounders, which received relatively mediocre reviews upon its initial release, has come to gain something of a cult following.
Rounders is the story of a young man, played by Matt Damon, who is extremely talented when it comes to the casino game of poker. Private casino games, online games at sites like Jackpotcity.co.uk/mobile-casino/iphone-casino and even casino tournaments would not have phased him – until one day he makes a huge loss playing poker against a Russian mobster (John Malkovich). He decides then to take a break from poker and other forms of casino gambling and focus instead on his studies. That is, until his childhood friend (played by Edward Norton) is released from prison, and persuades him to give the game of poker another go, in an attempt to pay off outstanding gambling debts.
The film was directed by John Dahl, who has since cropped up directing hit TV shows such as Dexter and Breaking Bad. Specialising in the neo-noir genre, he is credited with bringing a great deal of the tensions and atmosphere to this film – something which often proves essential in making a successful poker film, or any type of gambling film for that matter. With a snappy script from writers Brian Koppelman and David Levien, the cast are truly believable as top-class poker players. Yes, the plot might veer a little close to being predictable, yet it's never dull, and the final act of the film will no doubt have you in the edge of your seat.
It might not be the most complex of poker movies, but for audiences who know little about the game, this is more than likely to come as something of a relief. Bluffing it's way through twists and turns, Rounders is adequate as light entertainment, and a film which will be favoured by poker players who are happy to let a few of the weaker plot points slide.