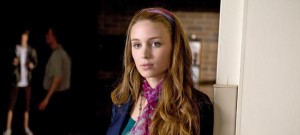 After months of searching, David Fincher has found the actress who will play the title role in the film Girl With the Dragon Tattoo. Rooney Mara will headline the main role and will probably a better version of the original film.
She will be starring alongside Daniel Craig, Robin Wright Penn and Stellar Skarsgaard. The casting process almost took forever. Rooney beat out a list of all the leading ladies from Hollywood for the role including Ellen Page, Natalie Portman, Carey Mulligan, Emma Watson, Mia Wasikowska, Emily Browning, Katie Jarvis and finally the best choice Scarlett Johannson who really missed out in the final stages.
David Fincher was looking out for a newcomer in the film. Rooney Mara has impressed David Fincher after her work with the director in The Social Network. The new film by David Fincher will be out in October.
The Girl with the dragon Tattoo is a huge priority for the studios who are also getting the second part of the book written for the screen by Steve Zaillian. The film will begin shooting as early as this fall in Sweden. The film is expected to hit the theaters by next year December.
Source: IonCinema