Studio Ghibli fans are still trying to cope with Hayao Miyazaki's retirement but they should not worry too much since there are other good anime creators out there and this movie just cements that fact.
The movie is a slice of life story concerning a family of a mother and father and two children. The mother Hana is a college student who falls in love with a man named Ookami. After fostering their relationship, Ookami reveals himself to be really a Wolfman or Werewolf to Hana. Rather than running in the opposite direction, Hana accepts Ookami's secret and they begin a family together. They story takes off with their two children Yuki and Ame, both half human/wolf as well, as they live their lives and grow up together. The story allows you to both connect with and grow with Yuki and Ame as they discover what life has in store for them.
The most touching point of the story is Hana's maternal determination to raise Yuki and Ame to the best of her abilities in an environment where they could follow whatever path they chose. The struggles, the love, the work, and the determination demonstrated by Hana in this movie will leave such an impression on your heart that I wouldn't be surprised if you wanted to pick up the phone afterward and tell your own mother that you love and appreciate her. Hana is a very powerful character, not through her looks or being aggressive, but by her love and her self-sacrifice. These points add an emotional layer to an already great story.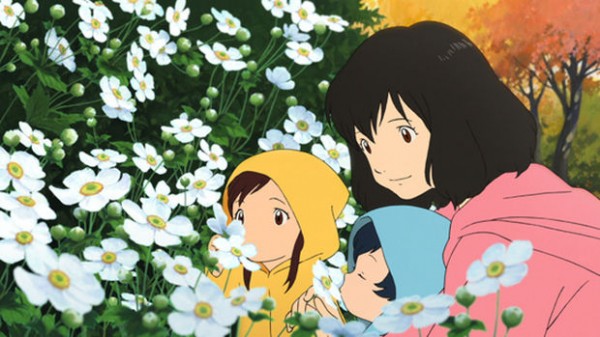 The tone of the movie is sweet, pure, and serious, lacking the bouncy feeling other children's movies have or an uproarious musical score.
The music is quiet and poignant and serves a subtle purpose. None of the characters are over the top either. They all behave like real people. The community in the farm country Hana moves to is a great character in itself, without focusing on any individual community member too much.
The animation is spot on for the entire movie. While I am not a very picky watcher at all in animation movies, I have to say that the art style and animation really caught my attention in many parts of the movie. And it is not just during those very obvious scenes where it specifically draws attention to the scenery, but in several normal scenes where other things are going on or lines are being spoken.
Suffice it to say, this movie is extremely well made. Story, animation, values, lessons, all the above are incredible and I cannot recommend strongly enough that you should see this movie.