Past Lives is one of those films that will leave you thinking and asking questions long after you have watched it. That is exactly what director Celine Song wanted us to feel as well. There is a silence in the film that seems to scream at the audience and that is where the strength of the film lies. Sometimes dialogue is not necessary and silence conveys much more. It puts the audience in the characters shoes and makes us go through the same emotions they did. It is a simple story but it is told in a refreshingly subtle, beautiful way that you cannot help but admire the story telling craft involved to make this film.
Past Lives is an honest, delicate, and fragile movie. Nora (Greta Lee), once a little girl from Korea, chooses her path as a writer after immigrating with her family to Canada. She then moves to New York City with the ambition to hopefully win the Pulitzer prize. During her artist residency, she befriends another writer (John Magaro) who also happens to live in NYC and who she eventually marries to chase her ambition. She's still Korean, but the identity ebbs. She doesn't sound like it anymore. Hae Sung (Teo Yoo), her childhood friend who never left the country, is very much Korean and his path is that of an engineer living with his parents, which he describes as ordinary. He loved her when she left Seoul at twelve, and loved her still at the points in which their lives intersected. Nora loves him too, in her own complicated, almost grieving way. He is her connection to a childhood she longs for, washed away in her memories, and seldom revisited because of the complicated confused feelings that come with being a child immigrant.
All three characters are emotionally intelligent, and they react to each other in very realistic ways. The opening scene as show in the photo above has a voiceover trying to figure out the relationship between the three characters and this creates an expectation of how the movie might play out. The director wants us to guess the story of the film and toys with us throughout the film as she peels away at the story layer by layer. She plays on a very specific feeling of aching; for a forgotten time in one's life, for an identity, or for a lover.
Philosophy is used to define the paths of each of the characters. Nora talks about In Yun – the Korean belief (or myth, depends on how you take it) of "fate" or "destiny" along with the Buddhist concept of reincarnation. It was 'In-Yun' that Nora and Hae did not meet in person as 24 year old's and instead she ended up meeting her future husband Arthur. The thought of 'What-If' Nora and Hae did meet up when they were 24 or what if Nora never left Seoul, what could have happened between them is the thinking that audience begins to ache and dwell on as the movie enters the final act. Maybe they wouldn't have met in person at all if she never immigrated from Seoul. The director wants the audience to look back at their lives and think about the different what-if situations that could have been very different based on the different choices made.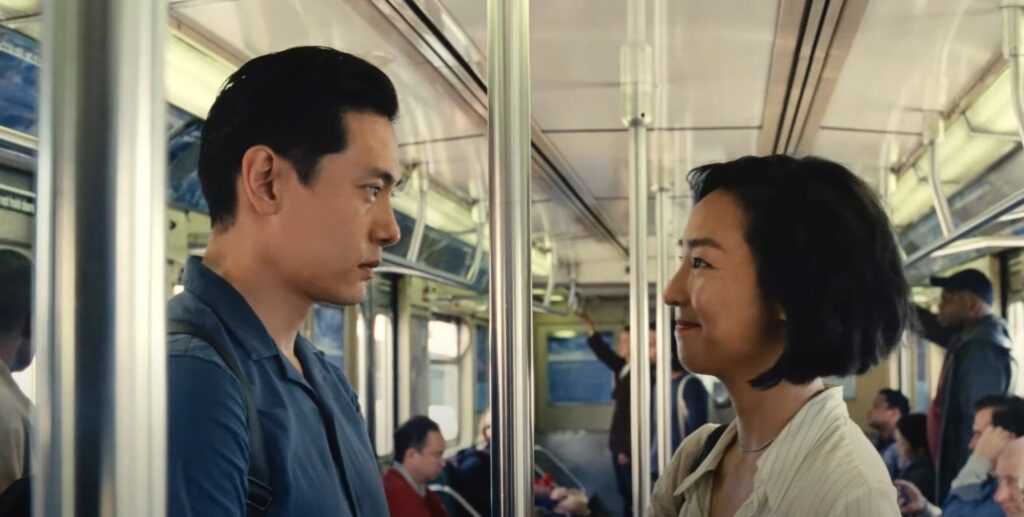 Technically, the movie is beautifully shot. Every scene, every focus pull has been carefully staged. A lot of effort has gone into making this film and this only adds to all the different emotions the audience feels while watching this film. Although the story might come across as basic, the treatment of the story, the character development and the emotional impact it leaves the audience is powerful. The different themes explored in the film, authentically portrayed by the characters, is well-written and developed thoughtfully without any hurry. The palpable tension between the characters in the final minutes of the film is where this film hits the ball out of the park. The film never feels too slow or fast with some scenes given more time to develop. It is as if the director told the cast to take their time and organically go through a scene to feel like they were living it.
The casting is brilliant with all three main actors portraying their characters with a sense of ease like their own lives were a reflection of their character's lives. Their acting is genuine and honest which is hard to find in a lot of movies these days. Celine Song seemed to have a lot of creative freedom and artistic control over the film which is simply magnificent. The film seemed like a painting she was trying to paint over many years and she was never in a hurry to finish it, but eventually did so in her own pace. Every scene in the film only complements the story and the characters without trying to be too overwhelming. Even simple location shots, such as a carousel near a waterfront, helps complement the emotional connection between the characters in such shots in a soulful and deliberate way.
Past Lives is a film that will leave a lasting impact on you even after watching the film. This is what elevates a film to something more than just an ordinary film. I don't know if it is a great film, just yet, since I am still thinking about it. It is a thought provoking piece of cinema that deserves to be seen more than once.