The posters for the film are just looking great. There was already one with queens which was already reported. Now there is one with Alice from the movie. The images in the movie look really surreal. Alice is being played by Mia Wasikowska. It also stars acclaimed actor Johnny Depp. This is surely going to stay in the minds of kids for a long time.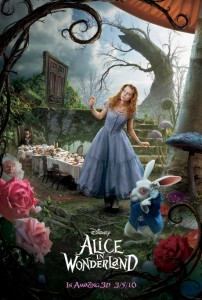 The film is directed by visionary director Tim Burton. It will totally be a twisted take on the age old tale. Johnny Depp will play Mad Hatter and by the looks of it the real star of the film.
Click here to get the hi resolution image.
The story is about Alice's return to Wonderland where she meets old friends: the White Rabbit, Tweedledee and Tweedledum, the Dormouse, the Caterpillar, the Cheshire Cat, and of course, the Mad Hatter.
The film has an all star cast featuring ANNE HATHAWAY, HELENA BONHAM CARTER and CRISPIN GLOVER. We will keep you posted on any other developments.